Monday July 26, 4:30pm Help us Map Supermarket Greenhouse Gases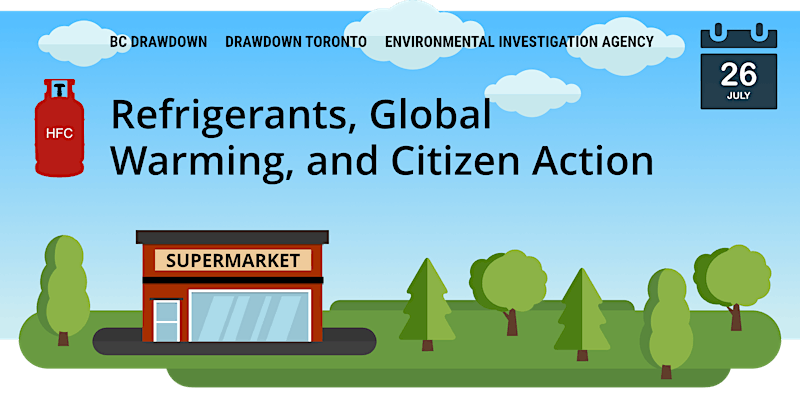 Seminar to explore action to reduce emissions from refrigerants.
About this event
Exploring Action to Reduce Refrigeration Pollution
Join our free online seminar on July 26 to learn more about refrigerant pollution and solutions. We'll explore how we can each take further action to tackle this super pollutant, including gathering data about supermarket refrigerants.
We'll be joined by experts from the Environmental Investigative Agency (EIA) who will talk about their work, their Climate Friendly Supermarket initiatives, and how we're bringing this to Canada!
Refrigerants and Global Warming Initiative
Drawdown Toronto and BC Drawdown are joining forces with EIA and their Climate Friendly Supermarkets initiative to investigate which refrigerants are in use across Canada. We're encouraging everyone to go out and find out which refrigerants their grocery store is using -- and put it on the map.
This is the beginning of a wider project to encourage action on this urgent issue . On July 26, we hope to gather anyone interested in climate action for a conversation about what we can do next.
Learn more about the Refrigerants and Global Warming initiative
What are refrigerants and why are they a problem?
Refrigerants are gases that are used everywhere: in every fridge, freezer, A/C unit and cooler; in homes, supermarkets, office buildings, warehouses, factories, cars and many other places. Cooling systems often leak. When refrigerants escape, they end up in the atmosphere as extremely potent greenhouse gases.

Why Focus on Supermarkets?
Transitioning supermarkets to climate-friendly natural refrigerants is one of the single most effective ways to eliminate emissions from HFCs - the gases used in our refrigerators, freezers, A/C units & ice rinks!
On average, it is estimated that 25% of refrigerants leak from supermarket systems each year, and often at a level that will not trigger an alarm for inspection and repair. EIA estimates that a typical American supermarket releases 875 pounds of HFCs each year, or almost 400 kilograms. Translated to CO2, that's equivalent to the emissions of more than 300 cars! There is urgency in adopting climate friendly refrigerants more widely.
Gathering this data from across Canada will provide the starting point for a campaign with supermarkets to encourage faster adoption of climate friendly refrigerants.