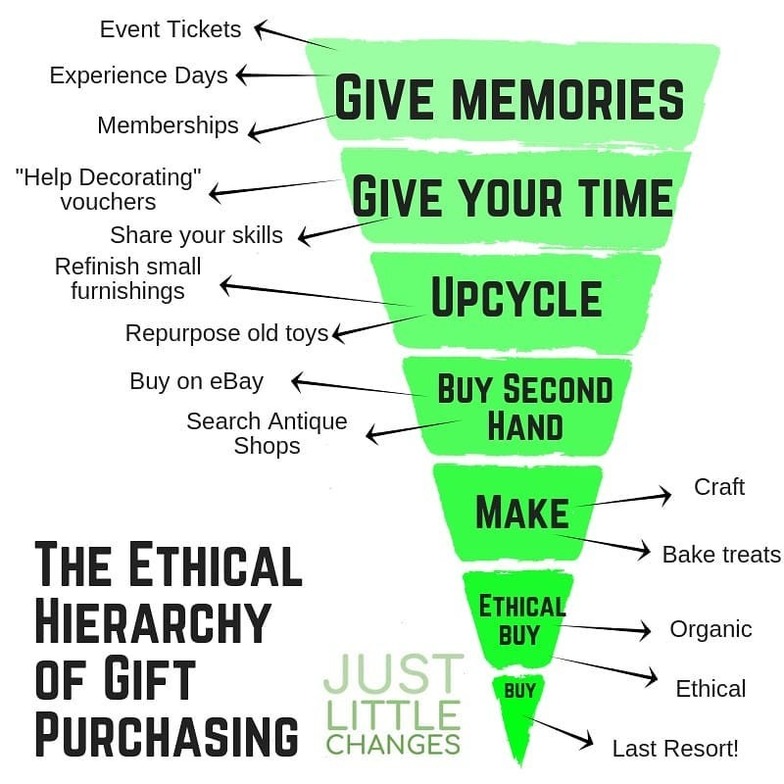 Christmas is a time of gift-giving and shopping. SAGE (Comox United's Sustainability Action Group for the Environment) has been looking at ways that we can be more environmentally conscious in our Christmas giving and have come up with some ideas for you to consider.
1 Most of us have lots of "stuff" already and don't need/want more
2. Many gifts come in plastic or other containers that must be disposed of
3. It is hard to know what some of our friends want/need/or have room for.
4. More people are starting to give items that they have made - cookies, jams, jellies, and other food items are always appreciated
5. Have you thought of giving a "service" to someone - ie: Give a certificate to have their driveway shovelled if (when) it snows, take their recycling to the recycling centre, cook them a meal?
6. Give them an experience: movie tickets, take them out to an event, share transportation to an event OR, if you want to give a great experience gift try this one: In February, the Beach Street Players and Strathcona Sunrise Rotary will present another "Have a Heart" musical theatre show here at Comox United Church. This year's show is a World War II show with fun for all. Director Gloria Herauf has crafted some wonderful musical arrangements for your listening enjoyment. Tickets go on sale in early December and will sell quickly. While there are 5 performances of this show, several sold out early last year - most notably the Saturday afternoon matinee. This would be a great way to give a low impact gift to friends AND be part of a great community fundraiser, as all profits are put to good use here in our community.
7. Have you ever done a family gift exchange for charities? We know a family that did as a way of not buying "stuff"..... Each family member drew a name from a hat and had to find, research, and donate $20 to a charity that meant something to the person whose name they drew. At the family Christmas party, each "giver" gave the recipient a card and spoke to the family about the recipient's charity and why it was important. A great way to do good, gift well, and provide shared education about the good things that are done by charities in our community and country.
8. If buying toys, can you find toys that are better for the environment? Wooden toys, non-plastic toys, recycled bicycles, repurposed toys are all ways to reduce and help our environment.
9. Try "Gifts with a Vision" - a United Church of Canada project to provide giving alternatives that help people (and our world). For more information about this, Click Here to see Gifts with a Vision
10. Make gifts. Sew some shopping bags for a friend, build a shelf for someone, the options are limited only by one's imagination.